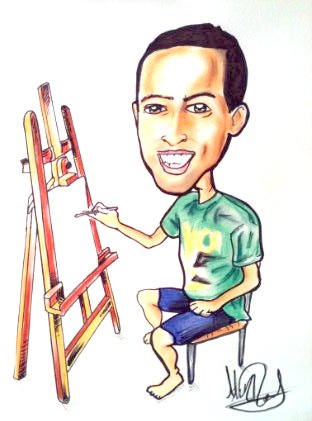 Caricature Workshop is an online business which creates fun, novelty caricatures from photos.

Our main artist and the founder of the business is Alan Read, however in busy periods we also contract other artists to help us with our workload.

Alan loves art and he is a dedicated artist, who's talent has been recognised by many of our customers. He used to teach arts and crafts to children but few years ago he's fallen in love with the art of caricature, opened his own business and loves making people smile through his art.

How caricatures come to live...

Caricature is a portrait that exaggerates, distorts or compliments the essence of a person creating easily identifiable visual likeness.The word caricature comes from the italian "caricare" which means "to load", therefore the caricaturist's aim is to invest his image with as much meaning as possible.
Did you know that one of the first artists to draw caricatures was Leonardo da Vinci? He was actively looking for people with deformities to use as models with the intention of offering an impression of the original who was more striking than the original.
Having said that caricatures vary depending on the artist and cannot be captured in a single definition.
If you are looking for a original and fun gift for the loved ones, family or work colleagues you have come in the right place. Please browse our website to see examples of our work about to learn more about our services. If you are unsure of anything or you need help regarding our services please contact us at:
info@caricatureworkshop.co.uk and we'd more than happy to assist you with any inquiries you might have.
Copyright © Caricature Workshop 2014. All rights reserved